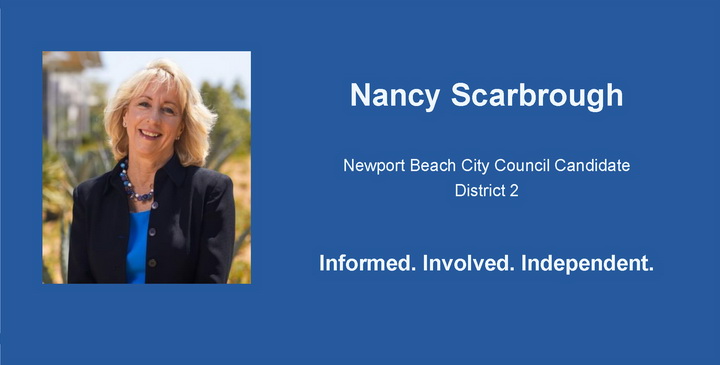 I have been working hard to get the word out to Newport Beach voters about the importance and benefits of electing an informed, involved and independent City Council representative on November 3.
Two important opportunities came my way this week, and I wanted to share them with you. And I ask that you, in turn, share them with your friends and neighbors who are looking for a positive change in our City government.

StuNews Newport, an important resource for all things "local", publishes their online blog on Tuesdays and Fridays. There is an important article in their Friday, October 16 edition that is well worth reading.
Go to StuNewsNewport.com and scroll down to read the article "Questioning the council candidates to see what they're thinking" (or click here).
Then take a minute more and scroll down to read Letters to the Editor (or click here). You will see a testimonial from two of my friends and neighbors Lynn Lorenz and Tom Baker about why a vote for me will affect a positive change in our City for the next four years.

Campaign season is a serious time for citizens. There is much information to comprehend and digest about candidates at every level of our government.
But once in a while, we need to take a break from all that is serious and look at the lighter side of campaigns. Take a look at Good Morning Newport's YouTube video for a well-deserved and timely chuckle.
---

Thank you to everyone who has walked neighborhoods passing out flyers and signs. It is making a difference! Thank you for your perspiration and perseverance!
If you still don't have your sign, click on the button below and we'll get my sign to you along with my official welcome to Scarbrough's Squad!
In our 2018 election 36,000 Newport Beach residents voted. And as we saw in that election, a candidate won by 36 VOTES citywide. Every single vote matters and your help to make that happen does too.
Please call or email five friends and tell them you support me for City Council. I am looking forward to winning on November 3rd so that I can work hard for you. You have my word on that!

Please be sure to follow and like me on Facebook, Instagram and Twitter. You will find late-breaking news on issues that matter most to you and me.
Until next time, please stay safe, and take time to stay informed and involved.


Newport Beach City Council Candidate
District 2