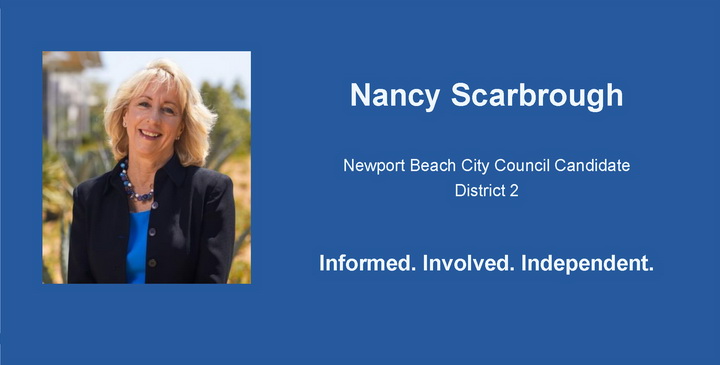 Your ballot will arrive by mail in a week, and a large segment of Newport Beach voters are noted for voting early. So my message is an urgent one for you and for the future direction of our city governance.

My election to Newport Beach City Council, District 2, is in your hands. Unlike my opponent, I rely on Newport Beach voters to elect me to office, not developers and special interest groups.
Unlike other members of Newport Beach City Council, I have NO higher-office aspirations. Once elected to our City Council, I will serve my full term.
I am a resident who has lived in my district for over 15 years and I am a small business owner. I have no conflicts of interest within the City so I can vote on every matter that comes before me.
My opponent has high name recognition and a considerable war chest which he relies on to win this election. I am relying on you!
You have my word. I will work hard and I will work for you.

I have made my background, goals and endorsements available on my website (NancyforNewport.com) and on my Facebook, Instagram and Twitter accounts (search for @NancyForNewport). And you can help circulate my information to your network of friends and neighbors by forwarding this email to them.

My yard signs arrive this week. I am sending information about my goals for our City directly to your homes soon. Your help in calling and emailing your network of friends will also have a direct and positive impact on my ability to reach more Newport Beach voters.
And none of these things are possible without financial support from Newport Beach voters like you.
---
You can also help make a difference by:
• Adding your name as an endorser
• Displaying window or yard signs
• Contacting your friends and neighbors
• Attending a COVID-safe discussion
---

Upcoming Virtual Forums
Wednesday, September 30, 6:00 p.m.
CdM Residents Association
Friday, October 2, 10:00 a.m.
Friends of OASIS
Zoom ID: 806 395 3593
PW OASIS

Past Virtual Forum Videos
NB Chamber of Commerce
Speak Up Newport
West Newport Community Association

Please be sure to follow and like me on Facebook, Instagram and Twitter. You will find late-breaking news on issues that matter most to you and me.
Until next time, please stay safe, and take time to stay informed and involved.
Sign up to receive my Newsletters here